Magelang is located in Central Java Province, Indonesia. There are many reasons why you should live in Magelang. To ensure, let's have a look at Magelang in this article! Each city in Indonesia have their own excellence and uniqueness as well as Magelang, it is one of the remarkable regency in Central Java which have a lot of charms. Besides that beautiful enchantment, it has historical tourism sectors as well. Of course, there is a great number of other benefits to living in Magelang. This list will open your eyes to a few reasons for living in Magelang.
Friendly People
People in Magelang are known for their friendliness which attracts the tourists to feel warmly welcomed thus don't worry if it is your first time coming.
Available for Comfortable Residence
Magelang is a truly nice and safe area to live in as it provides a comfortable living experience that is far away from the hustle and bustle of cities. Although this is a small town, Magelang has various superiority. From the calm ambiance and tight natural view, Magelang is located nearby Yogyakarta City which is an important center for Javanese culture.
Vary in Cuisines
Magelang has many typical special foods which is one of the tourist attractions. Those culinary cuisines are "Sup Senerek" (Red Bean Soup), "Bakmi Goreng" (Fried Noodle), "Buntil Lumbu" (grained coconut, anchovies, and spices wrapped in papaya leaf), and many more. One of the most popular food is "Mangut Beong" (Fish Curry), the main ingredient is Beong fish, it is a freshwater fish similar to a huge catfish.
Affordable Daily Needed and Accommodation
Besides the beautiful panorama, you can find in Magelang. You can buy your daily food at a good price, in general, the price of the meal is about Rp 5.000 (arround 2.9 $) to Rp 10.000. (arround 1.45$). There are a lot of food stalls you can find conveniently even in the evening you can buy wrapped rice within the side dish namely "Kucingan" that are sold by food stalls called "Angkringan", these stalls spread in some point of Magelang and open from evening to midnight or in particular days they open to morning.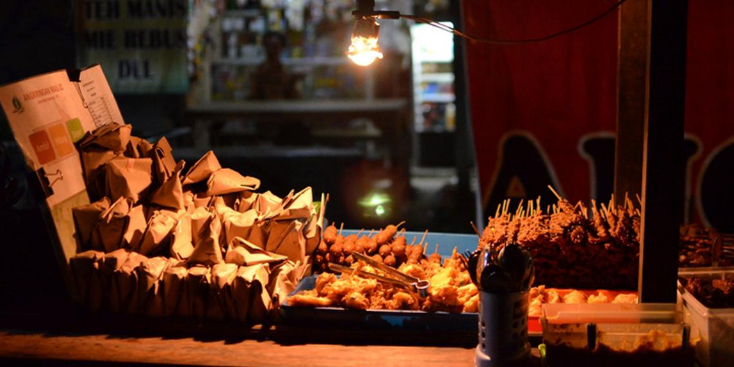 In terms of accommodation, Magelang has many boarding houses, particularly for university students with affordable prices and sufficient facilities. Commonly the boarding house in here is a regular house which has several rooms and each of them provides a bed and a toilet, however your facilities will depend on the fee. Magelang has four universities, there is various type of dormitory you can choose suit to your budget and need.
Exotic Town
Magelang has some unique natural scenery within exciting tourist attractions. This is the only city in this world surrounded by five mountains, those are Merbabu, Merapi, Sumbing, Telomoyo, and Menoreh. You can also visit Borobudur Temple, this is the biggest Budish temple in this world which has magnificent architecture, it is also included as the UNESCO world heritage site. Otherwise, Magelang has a beautiful hell in Kuruhan Village, Borobudur, Magelang where you can enjoy the fascinating sunrise while seeing Borobudur Temple at the high altitude.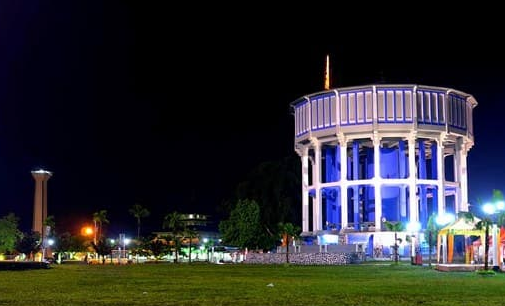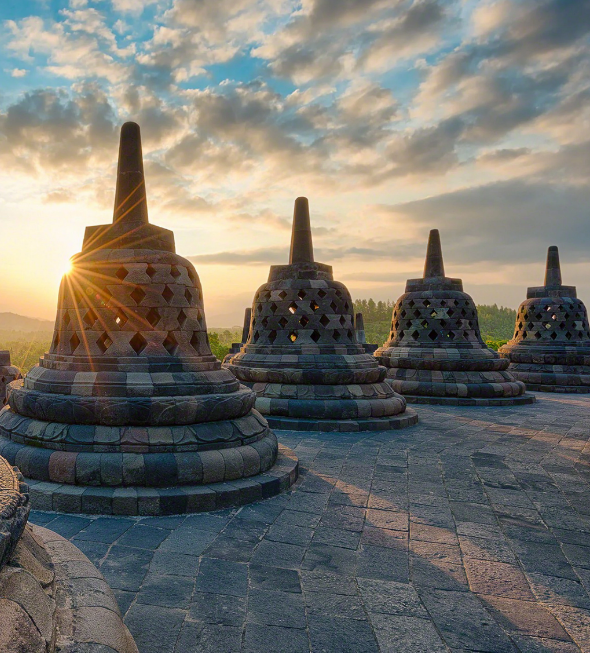 BOROBUDUR TEMPLE
Located on the island of Java, the magnificent Borobudur temple is the world's biggest Buddhist monument you must visit at least once in your lifetime. The area is surrounded by beautiful scenery of Central Java's nature that you can only find there. The temple sits majestically on a hilltop overlooking lush green fields and distant hills. Built between AD 780 and 840 during the reign of Syailendra dynasty, the temple's design in Gupta architecture reflects India's influence on the region. However, there are enough indigenous scenes and elements incorporated to make Borobudur uniquely Indonesian.
MANGLI SKY VIEW
Mangli Sky View so-called travel through the clouds is a nice destination to visit. This place is located at an altitude of 1570 meters above sea level, in eastern of Sumbing.
Mountain specifically in Mangli village, Kaliangkrik. This place offers the gorgeous view of extended clouds surrounded by nine mountains, there are Merapi, Merbabu, Andong, Telomoyo, Tidar, Giyanti, Ungaran, and Sumbing. Otherwise, Mangli Sky View provides extended vegetable fields within the carp of birds completes the fresh ambiance of this place.Visitors can also stay overnight in a camping ground area with facilities like a mosque, toilet, food stall, electricity, and WIFI.The committee provides camping equipment rental like tents, mattresses, sleeping bags, stove, gas, nesting and so on that can be rented at various prices.
NEPAL VAN JAVA
Butuh village so-called Nepal Van Java is a popular tourism destination in this recent times. This place is located at the altitude of 1620 meters below sea level, specifically under the foot of mount Sumbing. In a sight, this village is looked like the Himalayan mountain range in Nepal. This village provides a beautiful view including the cold and fresh air, in the morning the sun rises looks so clear and gorgeous. At the night you can see the stars spread in the sky. This village is popular among youngsters and a perfect place to take a shoot. It has a photo spot provided by the village management placed above the roof of local communities where you can enjoy the scenery of Butuh Village combined with the greatness of Mount Sumbing.
SILANCUR HIGHLAND
Silancur Highland is placed close to mount Sumbing specifically in Mangli Village, Kaliangkrik, Magelang. It offers the scenery of beautiful mountain ranges surrounded by green trees that makes this place a perfect area to relax and release your stress.
KEDUNG KAYANG WATERFALL
The water flows between the foot of Merapi Mountain and Merbabu Mountain which offers admirable scenery.
The location is in Nagrog, Wonolelo, Sawangan, Magelang. This waterfall is a very suitable choice for the tourist attraction in Magelang, you can play in the water or just hunt for Instagram-able photos.
This place is completed by a viewing post up of the tree where you will be able to see the clear scenery of Kedung Kayang Waterfall within the background of Mount Merapi.
Becak is a three-wheeled pedal powered by a human with a passenger seat in the front part, just as Delman you only find this transportation in certain areas like sopping center and grocery. This is an old traditional mode of transportation that still exists beside the Delman and you can experience an old heritage from riding a Becak.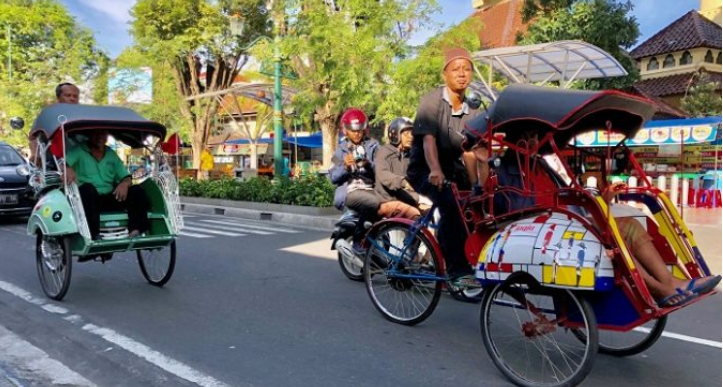 Magelang is a strategic town nearby of Yogyakarta, Solo, and Semarang which is passed by intercity bus. As easy peasy for tourists to go to Magelang as there are modes of transportation that are ready to take them. From minibusses to the regular bus with or
without Ac all of them can be found in Magelang.
Those public transportations are varied in routes, they start to operate at 06.00 am to 05.00 pm in every day.
You will find this kind of transportation in tourist places like Borobudur Temple or some groceries. In around the public place like a town square and shopping center, you can find the Ojek as well.
This is a traditional vehicle pulled by a horse by modern vehicles. In Magelang, it still exists in some traditional markets and popular cultural tourism places like around Borobudur Temple. Riding a Delman gives you a particular sense that you never have from the other transportation, especially the sonorous sound of Horse-shoes while this animal is walking and this is the main attraction of Delman.
In Indonesia, including Magelang, the biggest online transportation company are Gojek and Grab. They provide both car and motorbike to take the passenger and this transportation is widespread in Magelang as well as in the neighboring cities, especially in the big cities. Besides, this transportation is truly more effective as the passenger can order via the app and the nearest driver will come to you. Otherwise, you are allowed to pay by cash or electronic money linked to the app. Those online platforms often give discounts and promos for the customers or even free service for the first-time customer. Basically, these are their strategy to keep the customers.